General Information
Days & Hours of Operation
The Center is open Monday through Friday, 6:45 a.m. to 6:00 p.m.
We ask that when picking up your child, you arrive no later than 5:55 p.m. so that you may have time to gather your child's belongings and speak with your child's teacher. We close at 6:00 p.m. sharp.
Daily Schedule
Depending on the age and needs of the child, schedules are flexible and may change, but the following represents a typical day.
6:45 a.m. – 8:00 a.m.: Arrival, free play, toileting
8:00 a.m. – 8:30 a.m.: Breakfast
8:30 a.m. – 10:15 a.m.: Toileting, learning centers, crafts, story time, music
10:15 a.m. – 11:15 a.m.: Outside activities (weather permitting), physical education
11:15 a.m. – 11:45 a.m.: Bathroom, Lunch
11:45 a.m. – 12:00 a.m.: Story Time, toileting
12:00 p.m. – 1:45 p.m.: Rest period
1:45 p.m. – 2:30 p.m.: Toileting, snack, music
2:30 p.m. – 3:30 p.m.: Learning centers
3:30 p.m. – 4:30 p.m.: Outside activities (weather permitting), physical education
4:30 p.m. – 5:45 p.m.: Toileting, crafts, music, story time
5:00p.m. - 5:15p.m.: Snack
5:45 p.m. - 6:00 p.m.: Free play, prepare for departure
Arrival & Departure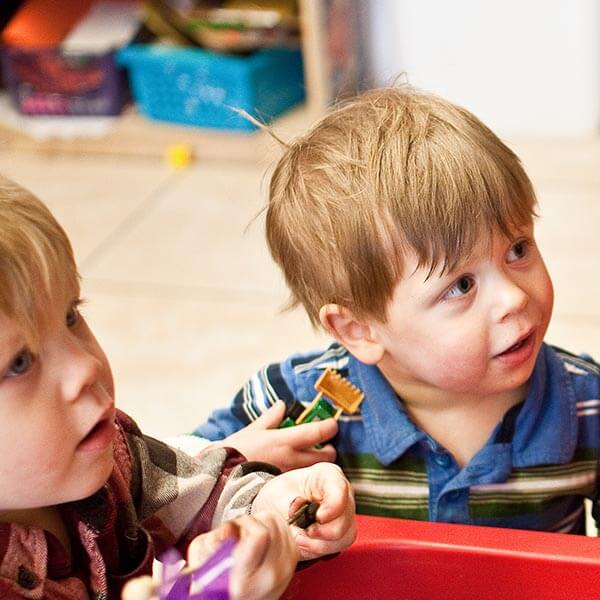 All children are to be escorted to their room each morning and picked up in their room when leaving the Center. No child is allowed to come and leave by him/herself.
All children enrolled in the Center are required by law to be signed in/out upon arriving and departing the Center each day. There is a sign in/out book on the front desk at the entrance of the Center. Please sign your first and last name each time.
Please send your child clean and dressed appropriately for the day and weather.
Please make your goodbyes brief. The longer you prolong the departure, the harder it becomes.
Please be in control of your children during the arrival/departure time. Traffic can be heavy and potentially dangerous.
If there is a court order keeping one parent away from the child, we must have legal documentation. Otherwise, we cannot prevent a non-custodial parent from picking up his/her child.
If someone other than a person authorized on the registration form is to pick up your child, you must give us written permission. This person must provide us with some form of government-issued identification when they pick up your child.
In an extreme emergency, we will accept a telephone call from you authorizing pick up for your child. This person must provide us with some form of government-issued identification upon arrival.
Please do not park under the breezeway for extended periods of time, as it will blow the flow of traffic. If you plan to spend a few extra minutes with your child's teacher please use the parking lot or pull farther forward.
Attendance & Absences
In an effort to maintain a quality program and proper staffing, please notify your Director if your child will be absent on a regular scheduled school day. We are concerned about you and your child, so please call us.
There are a limited number of spaces available; therefore, weekly payments are not based on your child's attendance. No refunds will be given for late arrival or departures, parent vacations or exclusion due to illness.
Door Access Codes
Parents will be assigned a door access code that will allow them entrance into the locked facility. Please do not give out this code!
Visitors
Parents are welcome to visit the Center at any time. However, if anyone else is to drop by and see your child, the parent must call the Center and give them permission.
Sometimes a child wants to bring a friend to visit. We are sorry but, we cannot let children come as visitors unless an adult accompanies them.
Communication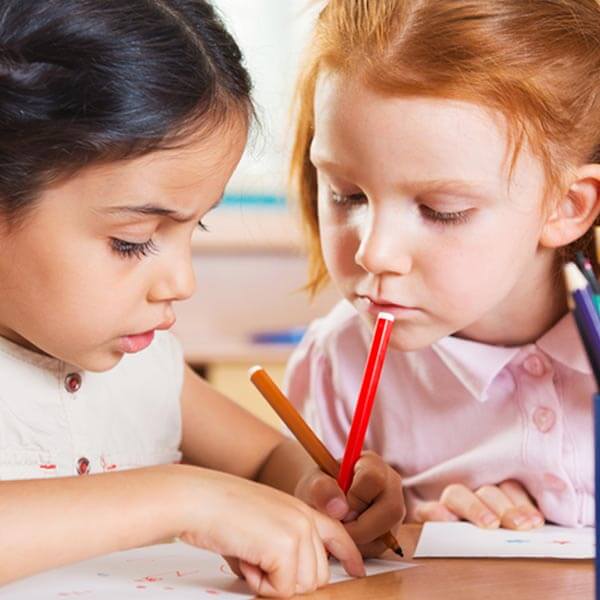 We are committed to working and communicating with parents. By partnering with you, we can give your child exactly what he/she needs to become a successful lifetime learner.
Internet Cameras - Included in your pre-school tuition is access via a secure Internet Server to the cameras in your child's classroom, playground, and gym so that you may view the activities and your child's participation. Access to our system is limited by password protection.
Enrichment Programs – From time to time we will offer enrichment classes (dance, music, Computer TOTs, etc.) for children to be involved in. We will post information as these classes become available. These classes taught by professionals outside our center and are optional. Payment is made directly with that professional.
We value a good relationship between yourself, your child's teacher and the Director. Together, we'll keep all the lines of communication open, so that we may help your child get off to a great start in life.
At RUMC-ECDC, we have an open-door policy for our parents. We want you to feel free to stop by at any point during the day to observe your child's classroom.
For emergency purposes, all parents must keep the Center informed of changes in work, cell and home phone numbers, addresses, etc.
Non Discrimination Policy
RUMC-ECDC is an equal opportunity provider. Applications for enrollment are considered without regard to race, religion, sex, national origin, or any other basis prohibited by law.
Photographs, Videos & Television
There are occasions when your child may be photographed, shown on television, the Center website and Facebook page or video. For this reason, it is necessary that parents sign a permission form to alert the Center of your preference for your child to be photographed /videoed.