Food & Meals
Meals are included in the price of your tuition. We serve a morning breakfast, a wholesome meal for lunch, and afternoon snacks to the children daily. Current menus are posted at the Parent Resource Center.
We serve milk for breakfast and lunch; and water or juice at snack time.
If you miss your child's class breakfast or lunch, we kindly ask that you please provide a meal for your child before dropping them off, and that they finish that meal before entering the school.
Parents of infants will need to bring the necessary food and/or bottles of formula or breast milk (all labeled with child's name), with written instruction concerning feeding. We are not allowed to prepare bottles. All bottles should be plastic. Please alert the director if you are using breast milk in bottles. Infant staff is required to wear gloves if you are using breast milk.
If the child is eating from the table, please indicate this on the registration form.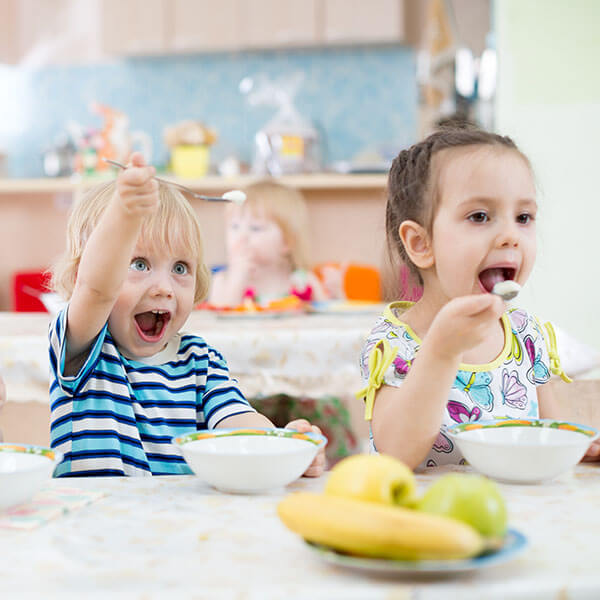 It is very important that infants receive their breakfast feeding at home before arrival at Center. Infants are held while feeding; toddlers are encouraged to feed themselves.
Our dietician is thoroughly trained and certified in the safe handling, preparation and storage of foods to ensure safe nutritious meals.
RUMC-ECDC works with the MS Department of Health to make sure that our menus are nutritionally wholesome.
All eating utensils, chairs and tables are sized appropriately for each age group.
If your child is to be served breakfast it is necessary that he/she arrive no later than 8:00 a.m.
Please be sure that the Director and teachers know about a child's food allergies or anything other medical conditions that would help us care for your child better. If your child has a special dietary need, substantiated by a medical evaluation, please inform us with written documentation. Substitute meals or snacks may then be brought from home.
Occasionally your child may be asked to bring a sack lunch for a field trip.
NO ONE OTHER THAN INFANTS OR CREEPERS ARE ALLOWED TO BRING FOOD INTO THE CENTER.