What to Bring
Supplies Needed
Infants
One week or more supply of diapers, wipes and other supplies necessary for your infant (ointment, powder, etc.).
Creepers-Afterschool
Weather and size appropriate changes of clothes (several sets if toilet training) in a zip lock bag with your child's name on the bag and tags
Blanket & nap mat for rest time (Please take blankets home each Friday to be washed.)
Afterschool children do not have naptime.
Swimsuit, towel & sunscreen for summer time activities (parents will be notified well in advance when these activities occur)
Detailed supply lists will be given out for each class.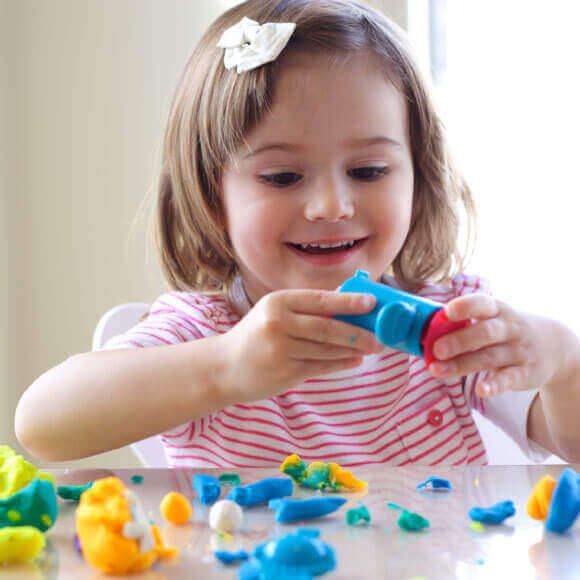 Clothing & Belongings
Our daily program includes activities that may allow your child to be messy, so they need to wear suitable clothing. Your child's clothing should be comfortable, weather-appropriate, easy to clean & easy to change.
A complete extra change of clothing (shirt, pants, 2 pair of underwear, & socks) needs to remain at the Center in your child's room for any accidents that may occur.
Plainly mark each garment, including all removable clothing (i.e. jackets, sweaters, caps, and gloves) & the container or bag, to help avoid confusion with others.
We recommend tennis shoes, so that your child can play safely while climbing, running, etc. Shoes are to be worn to the Center every day, even in the summer months.
Clearly label all diaper bags, bottles and infant jar food.
Please do not send toys to school unless the teacher sends a note home saying it is toy-share day or arrangements have been made with the director.
Luggage, car seats, etc. that you leave at the center for someone else to pick up must be plainly labeled with your child's name on it. We cannot be responsible for dropped off or picked up items.
Toys
Children are not allowed to bring toys from home to ECDC. The only exception is on Friday when your child's class has show and tell. These objects will be taken up and used only at share time. Even during show and tell, our Center does not allow toys that are a choking hazard, toys of destruction, toy guns, water guns, toy knives or swords.
RUMC-ECDC will not be responsible for any lost, broken or stolen toys. Toys in the Center that are willfully and purposefully destroyed by a child will be replaced at the parents' expense.